The Baby Moose & More About Frozen Trucks;
Posted 12-15-2011 at 10:04 PM by
Ard
---
I hope you haven't already found this out on the forum if you came here to see what was new. On Wednesday December 14, 2011; I was about to make a run to the post office at about 1:00 PM and since it was really chilly I headed out to start the car and unplug it. We use block heaters here on both the car & truck so that when you have left one set for several days in sub zero weather they are not frozen up.
Anyway, I opened the front door and stepped out onto the porch and something caught my ear directly to my left.
[IMG]
[/IMG]
Well hello there; this young of the year female moose was munching on the day lilies that were buried by snow right beside the porch. She then moved to the flower planters. We have a pair of those 1/3 wooden keg style planters out front that grow full of Violas every year.
[IMG]
[/IMG]
They learn fast here, she used a hoof to scrape away the snow revealing the plant matter hidden beneath it. She kinda reminds me of Donkey from the movie Shrek, how bout it?
[IMG]
[/IMG]
Little by little she cleaned the planters off. There's one job I won't have to do this coming spring.................. The pictures were taken out the front window, we keep a wood pile right there under roof so it's handy and she was right there and frequently stepped up and looked through at us.
[IMG]
[/IMG]
Mom was not far away throughout the babies visit, she trimmed all of the trees out front while her baby cleaned out the planters.
[IMG]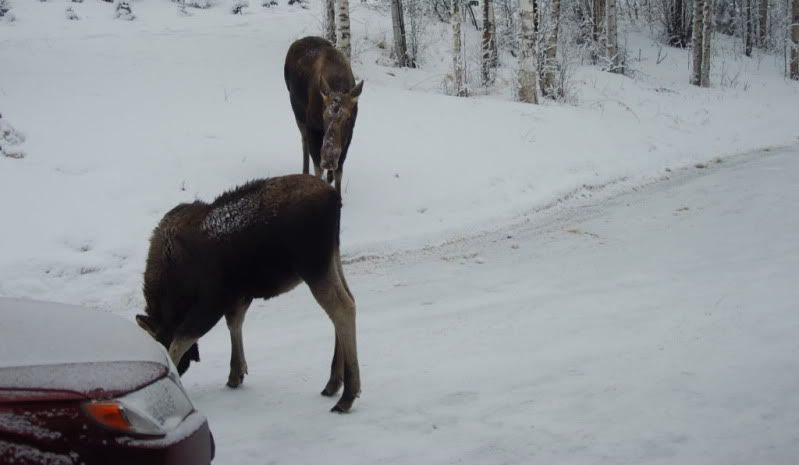 [/IMG]
The baby was pretty tunned in on finding more plants and she patrolled the perimeter of the house until she found every one, then she headed to the bird feeder. They were here until after 5:00 and dark, then moved on.
[IMG]
[/IMG]
[IMG]
[/IMG]
[IMG]
[/IMG]
Mom stayed close, she stayed on the edge of the woods browsing and never competed with the baby for the easy pickings.
[IMG]
[/IMG]
This was very noticeable that she was allowing her young one the prime feed. The yearling got all the planters and found her way to the rhubarb, chives, lupine and clover patches. It was pretty cool having them stay for the day, usually a lone moose or a group will pass through but seldom do they stay. There had been a young male here early in the morning but he fled at the first sound we made. Before the cow and calf left the cow found her way into the piles of tree tops left from all the timber we put down in September. This is a prime food stash for a moose to wander into, all the browse from 10 mature birch trees. I'm pretty sure they bedded down on our place last night because I can't imagine they were still hungry after all that.
The Truck Tale
Now about having a truck freeze up in Alaska; about three winters ago I stayed out at the cabin for just shy of 2 months. I had left the pickup parked at Deshka Landing and never had it occurred to me that it would be completely frozen when I returned for it. By frozen I mean that when you have prolonged temperatures of -40 everything will freeze, even the oil in the oil pan. Maybe it isn't really frozen but it is way past being fluid by quite a bit.
I had to return during the worst of the weather, it was somewhere around -30 when I left for the 79 mile drive back to Deshka on the snowmachine. I had a pair of those big gauntlets on the hand grips but even they didn't help when the grip heaters went dead about 15 miles into it all............. Even if you drive snowmachines a lot, heading off on an 80 mile ride is an undertaking and when something like the hot grips just up and quits there ain't much you're gonna do in those kind of temperatures anyway. Once you add in some wind chill you've got some really cold stuff going on. Anyway, I ignored the cold hands and pushed on like any good back country traveler who doesn't want to freeze to death in the dark. It was staying daylight until about 6:45 PM when i made this run in but I hadn't left until almost 1:00. I waited until 1:00 for the warmest part of the day and then took off.
I got to Deshka at about 7:15 and it was dark and although it seemed hard to detect (considering the ride I just had) it almost seemed colder there. I unlocked the driver side door and had to pull the door open and I mean 'pull'. I put the key into the ignition and there was no one home, not a bit, so it was time to do some walking. Oh well the walking kept the body warm (all except the fingers which already had some problems developing) and I hoofed down to Larry Heaters place and told my tale of woe. Larry was about 69 years old when this happened I think and he knows me so he grabbed his coat and some gear and came to help me out. it ended up taking a torpedo heater with a special piece of duct work that Larry had crafted to fit onto the heater and then have a 45* bend to direct the heat up onto the oil pan to start heating the lower block and oil. While that was running he had 2 chargers running off a Honda generator hooked to the battery.
After this whole system was hooked up and running for about 3/4 hour the truck turned over and it ran. We had sat in Larry's truck while mine was being thawed out and the thermometer said that it was -47 there so I had been right it was colder. That was my lesson on leaving a truck set for extended times in the outback. If I ever have to do that again I'll be leaving it where I can have a block heater and trickle charger on it the whole time. The frost bite on my fingers was not as bad as it could have been but all 10 finger tips ended up turning almost black and I got new skin all around after about a month. I had good gloves, I had gauntlets, and when I left I had heated grips, but things can go wrong anyway. When I checked out the problem it was the rheostat switch in the grips. Had I taken the time to trouble shoot on the trail I may have been able to hot wire them but then I may have had melted gloves and burns so I don't believe there was going to be a happy ending on that day no matter what......................
Thanks Larry
Views
990
Comments
11
Comments