And So It Ends Again..............
Posted 11-09-2013 at 03:39 PM by
Ard
---
Once again November eighth has come and gone. The date not only marks the turning of yet another full year or another page in the book that has been my life, it heralds the head long run into the coming winter. Now I have 59 years to reflect upon and almost 54 of them I can remember in the outdoors.
My father started me out as a child trekking the mountains of a then very different North Central Pennsylvania. I was drawn to the tiny streams we would cross as we made our way back then and as it goes, I am still drawn to the streams. Now I face the dark days that seemingly will go on forever. It was the same when I lived in the North East, perhaps different but no less the last hope for a bright day filled with the sights and sounds of spring - summer and fall.
I remember as though it were yesterday the steel blue sky's that would come rolling from the North West as I would fish my streamer flies in Lycoming Creek close to my home in Cogan Station PA. In those days I would pretend that the cold wind and sleet were pelting me as I fished for Pacific Steelhead on some wild river of the Oregon coast. I would stay on those November days until darkness came and then go home to wish my self to a place where I could continue my fishing. Back then, 1978 - 1988, it would get cold in my part of PA., darn good and cold too. As time passed I found that there was a great beauty to be had in winter if I would only embrace the cold and the snow. I bought myself a pair of ash framed Michigan snow shoes in 1982 and fell in love with the wild country. Winter camp became something I looked forward to and having developed that acquired taste so many years ago has served me well for my ten winters here in Alaska.
Today I must cover my river boat and dismantle my big pontoon raft for the winter. It is the end for all of that for a long 6 months and I have to keep my spirits up. You know, back in the 80's I met a musician who's lyrics gave me great strength. During the 80's and 90's I lived away from my mountains for almost 4 years. I worked for a company that sent me to every major metropolitan city in America. I saw a lot, but I lost a lot as well. When I returned to Pennsylvania in 1993 I made my mind up that I would follow my dreams for the rest of my life but as we all know, life has a way of getting in front of your dreams.
I'm doing something new in this entry, I'm talking about me. It would take a whole bunch of entries to tell the story but some of the things that come to mind at this melancholy time of year serve to remind me of what has been important ever since I was a child walking through the mountains of Pennsylvania with my father. The wild country.
This is a recording of a song written and preformed by that musician I mentioned awhile back, open the window and listen. Open your eyes and ears to the sort of inspiration that has helped me to always gain a hold on my heart and mind.
Maybe you too can relate to what John had to say. We all have or own Alaska's, our own cathedral's where we are whole and we are at peace.
As my 59th birthday came to an end I went outside to look at the sky on the chance there would be something there for me to marvel at.
I was taken by surprise but still got a picture of the first Aurora as I head into my 60th year.
Here are some pictures I took this past season as I searched for my own peace in the wild country.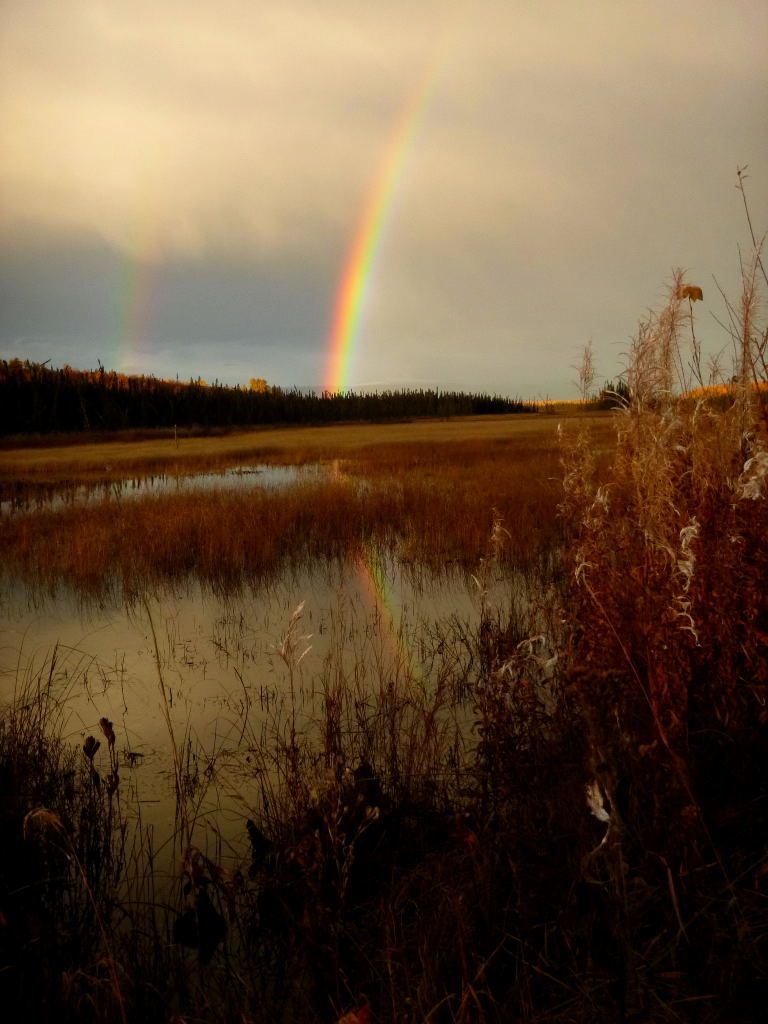 I'll close with this one, given the tone of the writing it seems appropriate.
Searching for your peace with the sun in your face.
One last musical message from an aging tree hugger, there is a bit of preamble but the unplugged version of 'The Wings That Fly Us Home' is worth while.
Next entry will be 'Tracking The King' a story and photos from spring 2013.
Ard
Views
868
Comments
3
Comments
Posted 11-13-2013 at 08:08 PM by

milt spawn

Posted 11-14-2013 at 10:40 AM by

gzarboni

Posted 11-14-2013 at 11:08 PM by

Ard