Still Working on The Cabin;
Posted 06-05-2014 at 11:55 PM by
Ard
---
I've been at the lake most of the past 2 weeks and although I took some time to go up to the Talachulitna to fish for trout and did some exploring on the Yentna River.......... I finally finished the second floor ceiling and sheeted the gable walls in the cabin.
On the front end of the building I had built a bridge to extend the loft to reach the large gable windows. This had been only a dream until this winter when I finished the floor and just last week erected rails for safety.
The front porch has only had 1 set of stairs to enter & exit with since the logs were stacked 16 years ago. I built a new stair on the other end of the porch just 10 days ago also.
The porch is 24 feet wide and until now you had to use the old steps and walk all the way around the cabin to reach this building
When its raining hard the lessened distance will be greatly appreciated.
The next couple pictures show the look up from first floor to the loft now with its rails and finished ceilings and walls.
These are the steps on the south end of the porch that I rebuilt 2 summers ago. I was lucky this past week to be able to get 2 coats of finish on both set of steps and the outhouse without rain happening.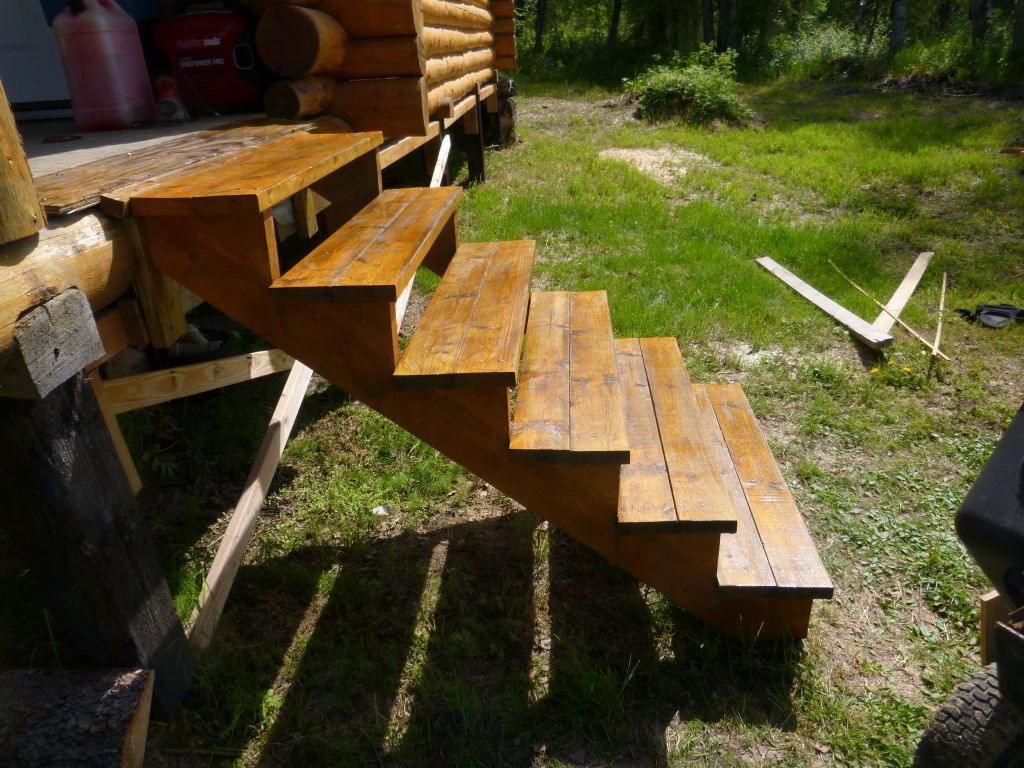 AN entry to this blog would not be right without mention of my friend Boss who is along helping on every trip. Here's a shot of him coming down the ladder from the loft.
It took him a while to get good at that because the steps / ladder are very steep but he goes up and down all by himself. I stay close and spot him just in case he were to come down head first way too fast
I'm looking very much forward to hanging the sheeting on the first floor ceilings and being able to burn electric lights this winter. I currently use just one lamp powered by a deep cycle battery inverter system which I charge with the generator whenever I use it to run power tools. When the wiring is done there will be 5 ceiling lights and a ceiling fan above the bridge in the very peak of the building to circulate heat in winter.
I'll be away fishing most of the next 3 months but will get the electric wires in the first floor ceiling and then get the panels up on the rafters and the place will begin to look cozy. All of this is taking place 76 miles off the road system and I am doing it alone so it takes time.
I'll be posting some fishing pictures in the next few days because I'm going for some King Salmon tomorrow and actually for the next 25 days.
Ard
Views
885
Comments
3
Comments
Posted 06-06-2014 at 01:51 AM by

milt spawn

Posted 06-07-2014 at 08:04 PM by

jaybo41

Posted 11-01-2014 at 04:45 PM by

mcnerney