Diving headfirst into fly tying
---
So I picked up a vise and a bucketload of materials and have been tying like crazy. I tried that "tie 100 wooly buggers approach" but made it through five before wanting to try all sorts of crazy patterns. Now buggers are tied in all colors in between other patterns as technique practice and box filler, because I still love buggers and know that I will never have enough. Tie number 6 was a crayfish pattern that I basically BSed after looking at photos of real crayfish and some patterns people tied. It came out alright:
(Photocred to MBPhotos/Mike)
I just hope it starts catching fish
It might need some tweaking.
This month's Fly Fisherman magazine included a pattern by Charlie Craven called the Gonga, and it interested me so I tried it: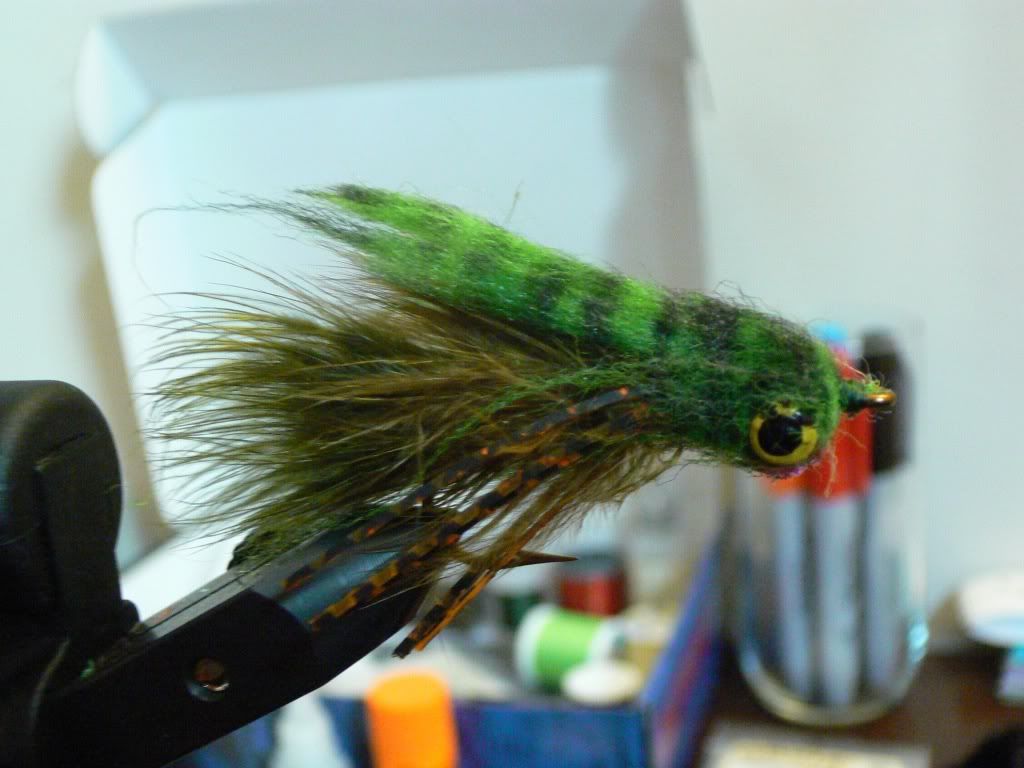 Then I wanted to try an articulated version, as if I wasn't already in too deep:
I also am part of the bass popper swap coming up so I wanted to see if I could spin deer hair. My first attempt was a cropped mess because I was cutting the deerhair with a broadhead blade since I couldn't find any razors. It became a dahlberg diver instead since I left the collar on it. This is attempt number 2, using a scissors instead:
Then I decided to try something simple since the salmon are on the run and the trout are busy gobbling up salmon eggs. I had purchased estaz already to stand in for cactus chenille so on came the egg patterns. These were the first patterns I tied to get tried with any concerted effort on the water. The result was four browns hooked, not a single one landed. However, two of the four gave me nice long fights before either spitting the hook or wrapping around a rock, and the other two fights were not sniff-and-spits either but lasted long enough for me to see the fish before they flashed away back to their respective lies. It was a great day, even if I did not land my first brown (YET!). Nine eggs, tied, eight eggs lost and one unraveled in quite a few hours fished. Not so bad, and nothing like the hit to the wallet that eight lost lures would represent in my past life
Here is an egg-sucking bugger I tied to try and entice the big 'uns (it also shows the style of eggs I've been tying):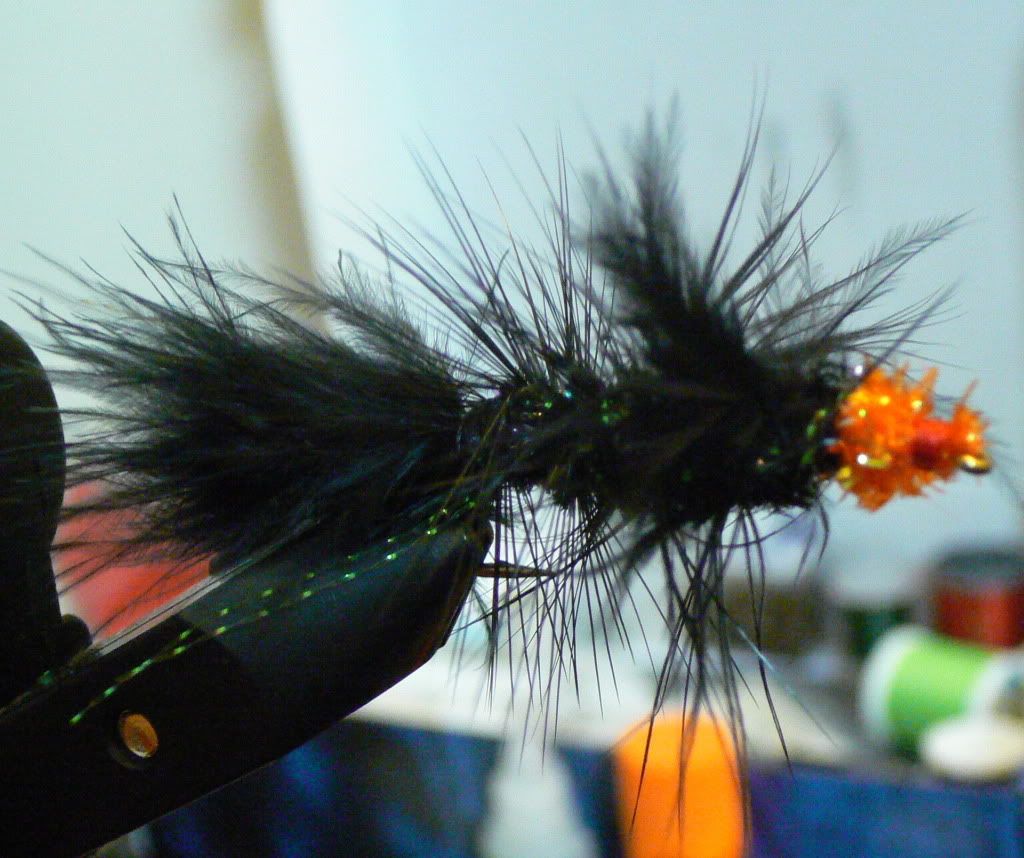 Finally, my buddy was running a zonker for a bit yesterday and I loved the way it looked in the water. So first thing this morning I decided to tie one up, but took some hints from the muddlers I've seen and added some flash and some legs for extra attention-getting-ness!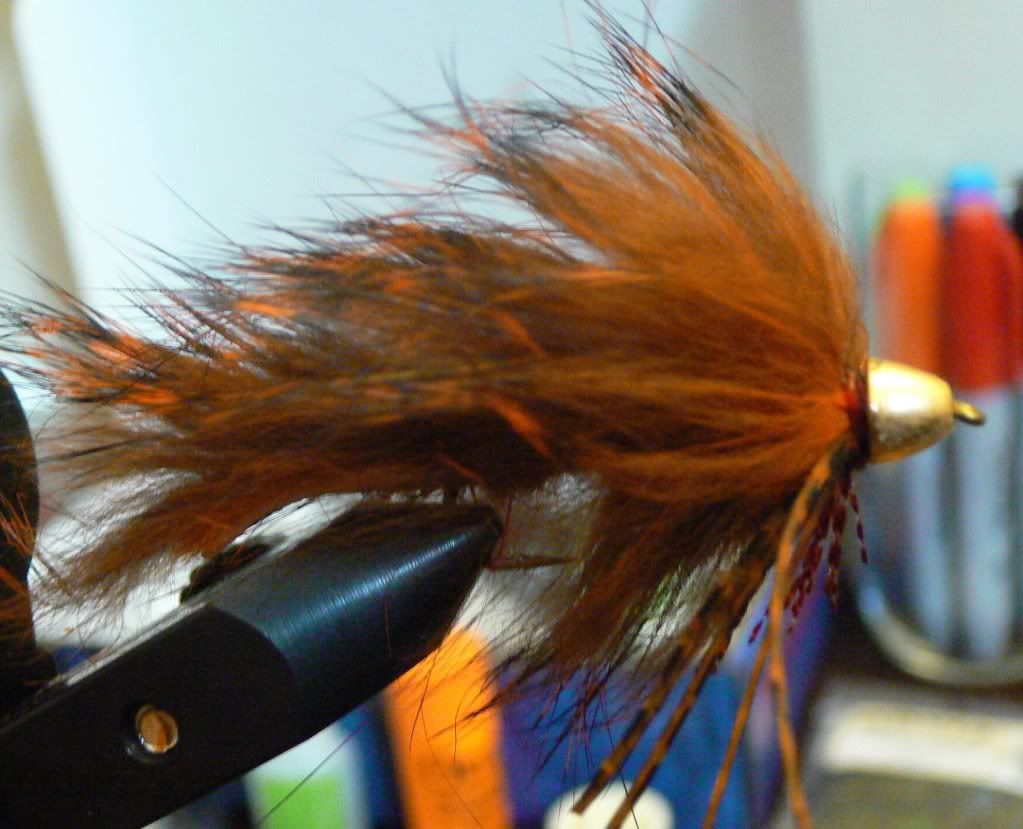 Next stop, more fly boxes! And about forty more eggs... and 8 more poppers for the swap, if that is the pattern I settle on... I'm addicted and I love it.
Views
1147
Comments
1
Comments
Posted 10-16-2011 at 09:07 AM by

Ard