Page 2 of Short Runs & etc.
Posted 07-30-2012 at 04:30 PM by
Ard
---
I've never crossed Prince William Sound before and so had not seen so many bergs in my life.
I neglected to take pictures when we disembarked the ship but I was the first vehicle off loaded and thought that a good thing. Camp at Valdez was nothing special, we pitched tent at Glacier Campground & State Rec. Area and it is aptly named. Cold, cloudy, and more mosquitoes than out at the cabin although I didn't think that possible. The only wood available for fire was alder and all the dead stuff was water logged (it is Valdez ya know) so keeping a flame was a task. We managed some burgers and locked ourselves into the bug free zone of the tent till morning.
Morning was the same as evening colder than you would want and damp but out we went from the shelter of the tent. The weather didn't bother the mosquitoes a bit as a matter of fact they seemed to have worked up an appetite over night. We squared away the camp and headed from town on the Richardson Highway but not before Nancy took a shot at the fish.
She came up dry on the Bayside and we got underway. You know, I drive by some pretty incredible scenery everyday but on this day I had the feeling for getting some pictures and this I think might be the best little waterfall I ever got........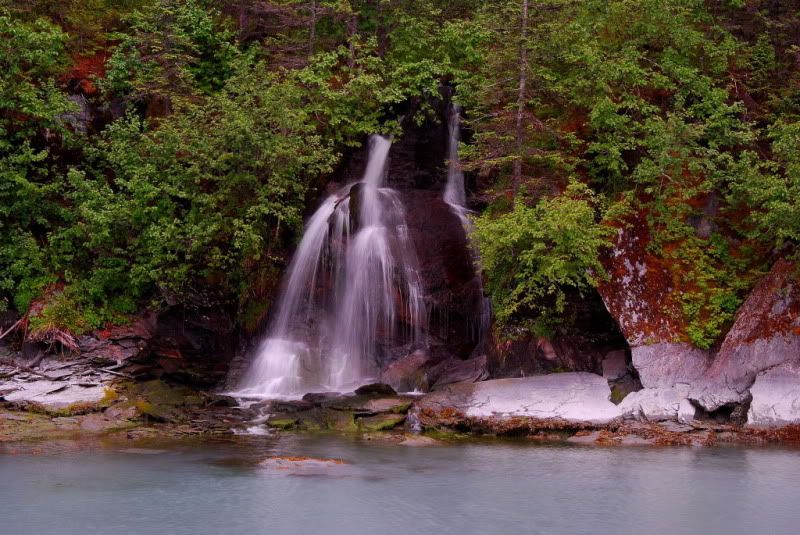 After the picture taking we just traveled and looked at the enormity of the landscape and of places we knew we would never tread. It's sad in a way because there are so many places I would love to just walk to but when considering the distance involved and the fact that I'm not getting younger I figure I needed to be here right outta high school. maybe I could have put a dent in it if I had 40 years to work at it.
Relegated to short walks from the parked truck we wandered along creeks, rivers, and the edges of small glaciers that could be spotted from the road. I wish I could tell you we made a three week journey into the wild but that wasn't the case here. I did however find this;
Alone and growing in the most inhospitable spot for any flower to try to thrive; it was but a few hundred yards from a glacier and in 42* temps most of the time. Alpine life has always amazed me with its diversity & tenacity.
On the road toward Chitna I spotted a group of small cabins for rent and the weather looked a whole lot like rain so........
I gotta tell ya, this beat the tent when we woke up to a steady rain and 44* air. The outfit that offers the cabins had coffee and breakfast so we got a first class start on a cold rainy day. Form the cabin we were about 36 miles from Chitna and neither Nancy or I had ever been there so off we went. There were a few things to investigate along the way;
This was taken from an overlook above the Mighty Copper River and I can tell you that it makes even the Yetna look tame.
Once we were down in Chitna I took this at McDonald Creek, the river plunges into a canyon below here and gets wild.
Page 3 will show some downtown Chitna stuff and then we're going to leave.
Views
685
Comments
0
Comments