Jeed's Journal: I swear I'm NOT horrible!
Posted 07-22-2014 at 09:04 PM by
jeed
---
Even though I've already had an introduction, its been awhile so I figured I'd start up a journal thread to reintroduce myself and share my experiences, ask the hard questions, maybe even make a joke or two. Hell, it might even be entertaining. So Here....We....Go!
Entry 1: 07/22/14
Hi I'm John. I'm a soon to be 27 year old guy from southern CT; I'm a nerd, an artist, and a mostly loyal friend. I say mostly because I've only ever had one affair in my life, and well, it was with the sea. From a young age, I was always somehow in the water. I learned how to fish at my uncle's pond when I was 6, and spent my teens bungie-cording my surf rod to my bike and chasing the bluefish with my friends across town. When I wasn't trying to reel them in, I studied them in my tanks at home. I was one of those odd kids who never shied away from bugs, and I never just stepped in puddles without looking to see who was in it.
As I got older, as we most do eventually, work and adult life took over. However, the water, she still called to me. At first it was faint, a whisper here and there on my morning drive past the lakes on a warm spring day on my way into work. The gentle caress of the breeze as I walked by on the seawall. She never gave up on me until one day, she decided enough was enough and she cracked my skull open with a 2x4 of nature; needless to say, I got the point. I was walking along the seawall one day at dusk, and saw a fellow out on a kayak spey fishing, more on that in my original intro thread. I saw him casting, the fly whipping through the air...it was if I myself was hooked on the end of that line. Then, came in the fortunate circumstance of moving to a new company, and a pair of my coworkers being avid fly fisherman and hunters. The catalogs were everywhere, gear was stowed under desks on Fridays; they tied flies on their lunch breaks. One day, I let it slip, I fished. That one, quiet admission broke the floodgates and within 2 weeks I was shopping; It was time go to home.
One new friend had an obnoxious amount of gear, enough so that he pretty much kitted me out in his extras, and thanks to this forum, I picked up my first rod and reel: a sage z-axsis 9'6" 5/6wt with a 6wt lamson konic reel. Then, in a twist of fate befitting a man of murphy origins, both my new fishin' buddies got laid off, and due to red tape, I couldn't speak to them much anymore. Longer story slightly shorter, work got rough and I didn't have time anymore, but still She called. I got the same boot a year later and here I am, a year after my booting clear of the dust storm.
So last week, I put my hikin' vibrams on, threw all my stuff in the fishpond wildhorse pack, and hit the trails at lake Mohegan. I've hiked this park many times with my darling better half, but she's a Hiker, with the capital H; she sticks to the trails and goes home. I'm an artist, I tend to wander, and wander I did. It was a quiet Thursday afternoon, so I took my sweet time. I walked along close to the lakes edge, eyeing what was coming off the water, gentle flipping a rock here and there to see what decided to advance its life cycle that day. I explored a few less-traveled paths, and followed the stream up to the highway.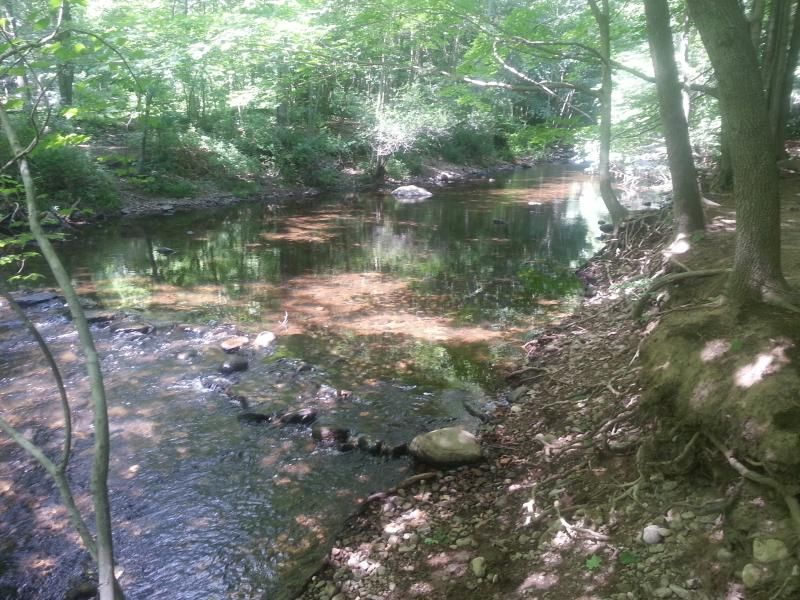 I can still smell it, its in my top 5 smells, somewhere between fresh cupcakes and roses.
I hit the end, cracked out the bug net, and consulted my digital oracle to double check the DEEPS findings. All was as I expected, so I moved on.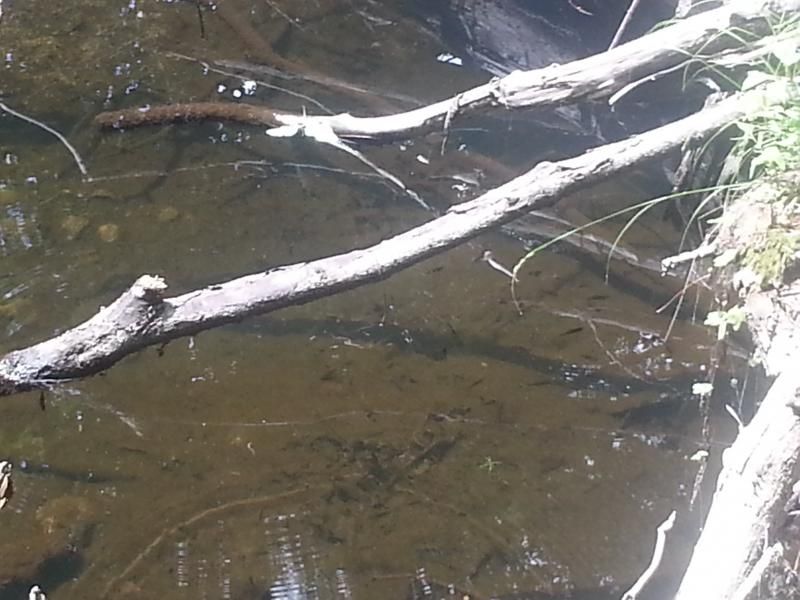 Look at all those cute fry! Next year, you and I shall dance, if you survive.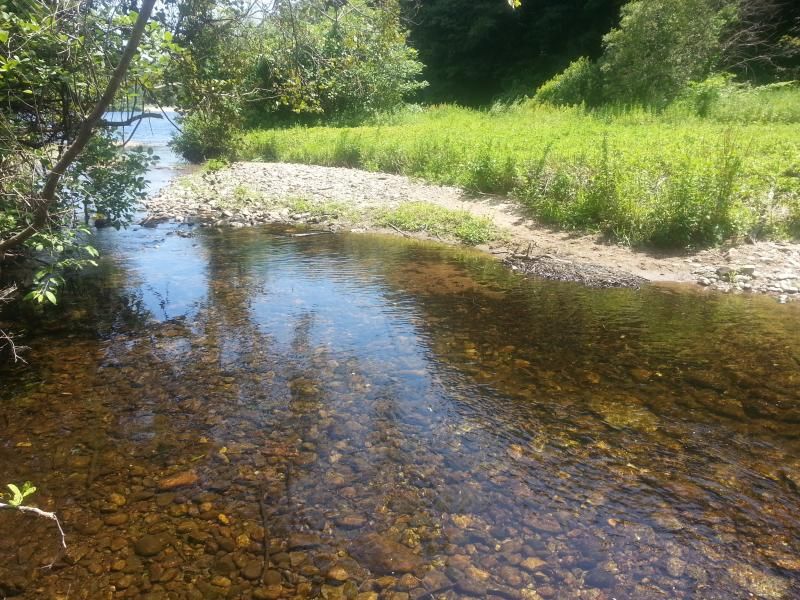 The approach...
I moseyed my tail back down stream to the lake, it was time to get reacquainted with my mistress. I don't know why, But those quiet moments while finding a spot and setting up always seem timeless to me. I found a friendly log on the side of the lake, its bark long ago swept away by time. I plopped my pack on it, and went through the paces of putting my rod together. Beside the gentle noise of the creek feeding it, the lake was quiet; ok, maybe a dog or two barking on the other side, but I couldn't hear it. All I was focusing on was the water, watching the gentle waves hit the sand as I threaded my line through the guides. I tied on an size 8 olive wooly bugger with a tungsten bead head to get things rolling. The water was clear that day, and I saw a lot of movement on surface about 30ft from the mouth of the lake.
So perching myself on a friendly rock around 4ft off shore, I went to work, and the world just...faded away. I've spent years learning for this moment; after a beginners course at the local LL Bean and countless nights staying up watching videos of Mel Krieger on youtube, there I was. I always gravitated to Mel, I think because he heavily reminded me of my uncle back on that lake stocked full of carp all those years ago. The way he talked, the mannerisms, it all just made things click for me. as I stood there on the rock working that bugger with my roll cast, all I could hear was Mel, " I must quote, the quintessence of learning, is doing. I know what you're thinking! You're thinking: I don't want to develop bad habits! I don't want to do this thing terrible until I get the right instruction...pfffffffft! Listen, the way to learn how to fly cast IS to fly cast! It's identical to riding a two wheeled bicycle, you've got to get on the bicycle and do it! Develop some bad habits! People, I'd like you to go out tomorrow and buy yourself a rod and reel and throw the line back and forth, and you'll be a fly fisherman." Mission accomplished Mel, mission accomplished.
I think it was around then that She realized I was there. the only action my bugger got was from a group of 6 fingerlings stationed around my rock; I think they were taunting me, maybe even laughing...Yeah, they were laughing at me. Now I'm no n00b, when I go fishing I disconnect. My phone, wallet and keys were in my pack on shore. I went back and clipped off the bugger and tied on a yellow jacket popper I had in my box. I know there are bass in that lake, and I saw them coming up to the surface; I'm sure the fingerling peanut gallery had told the entire lake about the poor sod on the rock by then. It was then that my phone rang, and since I'm unemployed, I try not to avoid those calls, and sure enough it was a contact. So talked I did, hung up, and like the poor sod I am, I unconsciously slid my phone in my pocket and got back on my rock.
At this point in the story, I'll make it known I am no stranger to murphys law. I should have saw this coming, hell at first I did and planned for it; but not well enough. I felt empowered: the lake went silent and since I didn't have any back casting area, I sling shotted the popper out there and roll casted the yellow jacket right out to where I saw those *******s taunting me. It looked like someone shot a hole in the lake. I gently rolled that popper right over the spot where an air bubble has just hit, and it was like someone pulled the cork on the bathtub. something big swallowed it whole and took off with enough force that it put me off balance on my rock and into the drink I went up to my waist. I still had it though. I slopped my way on shore , working it closer then...nothing. I saw the bloody popper just go poof, right out of the water. I was heartbroken; I stripped my line in, and then saw the popper was in worse shape than the remnants of my ego: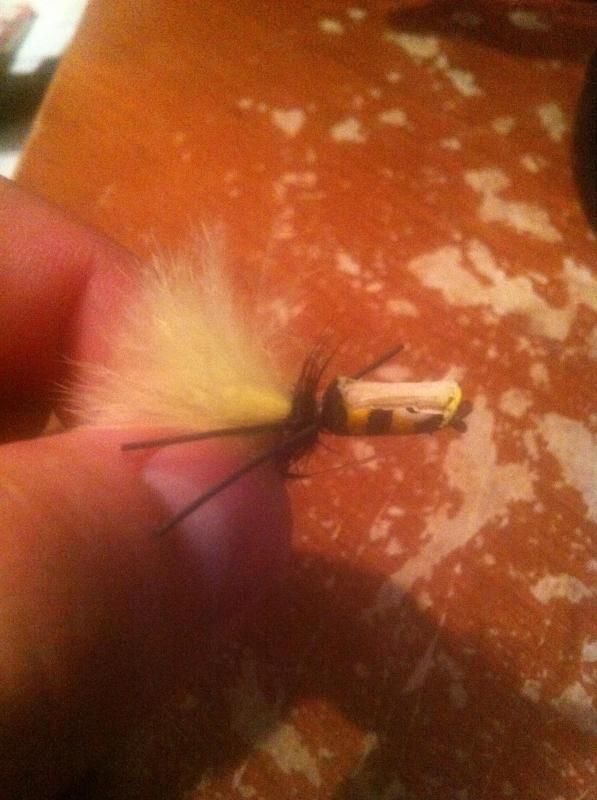 The poor thing, it barely lived and that monster destroyed it. As I turned to shore to wring myself out, it was then that I remembered that I left my phone in my pocket....*******s. She's dead Jim, dead. No bag of rice or AT&T warranty is saving it. it was then I decided to cut my loses and call it a day. the sound of the lake came back, and the dogs once again were barking and people were walking by laughing at that half soaked loser sitting on a log. My walk of shame was at least quiet, but I did accomplish one thing. I went out and threw a fly around: I was officially a fisherman again.
She may be a cruel mistress, but she's mine all the same.
Views
321
Comments
0
Comments