Messages

20,771
Reaction score

241
Location
This was a really fun fly swap with some really great looking patterns and a total of 14 members participating. Thanks everyone for participating!
mcnerney....Dorsey's Top Secret Midge size 20
Hook: Dai-Riki 125 size 20
Thread: Brown 8/0 Uni ribbed with 6/0 white Danville Flymaster thread
Wing: Umpqua Flouro Fiber, white
Thorax: Superfine dubbing, rust brown
ted4887....Biot Midge
Hook: Dai Riki 135 (size 18)
Bead: Black brass or tungsten
Thread: 14/0 Veevus
Body: Goose Biot
Rib: 1 Strand Krystal Flash
Dubbing: Superfine dubbing (trico colored)
ia trouter....Red Zebra Midge size 18
Hook- 18-20 Allen scud hook
Body- 8/0 Red Uni thread
Copper wire- brassie size
Collar-peacock herl
Bead- 2.0 mm Allen brass bead
Forward Message
mudbug....Snowshoe Emerger
Moose Body SSE (Snow Shoe Emerger)
Hook: Daiichi 1130 #18
Thread: Danville 70D Black
Body: Two strands of Moose Mane. One dark, one white.
Thorax: AZ Sparkle Dub, Dark Peacock
Wing: White Snow Shoe Bunny fur from between the toes.
jimmie....Buckskin Flash Pupa
Hook- TMC2488 sz 20
Thread- Power Silk 10/0
Body- Buckskin micro tubing
Collar-Pearl Krystal Flash
Head- TBD (either tying thread or probably light tan glass bead).
craigthor....Size 18 Fore and Aft Midge
Hook: TMC 100 size 18
Thread: Black 8/0
Tail: Black Hackle Fibers
Rear Hackle: Grizzly
Mid Body: Tying Thread
Front Hackle: Grizzly
liphookedau....Small Blue Beaded Midge
Hook : Size 16 #2457
Bead : Blue
Thread : Black 70 Denier
Body : Fine Blue Wire
Wings : Mauve Crystal Flash
Thorax : Peacock Ice Dubbing
Hackle : Fawn or Off White
itchmesir....#18 cream zebra mercury midge
Hook: Allen N304 #18
Bead: D's Flyes Tyers Beads Midge S/L Silver
Body: UTC 70 Cream
Wire: Ultra Wire Sm Copper Brown
Finished with a coating of SHAN
Ctshooter....Zebra Wing Midge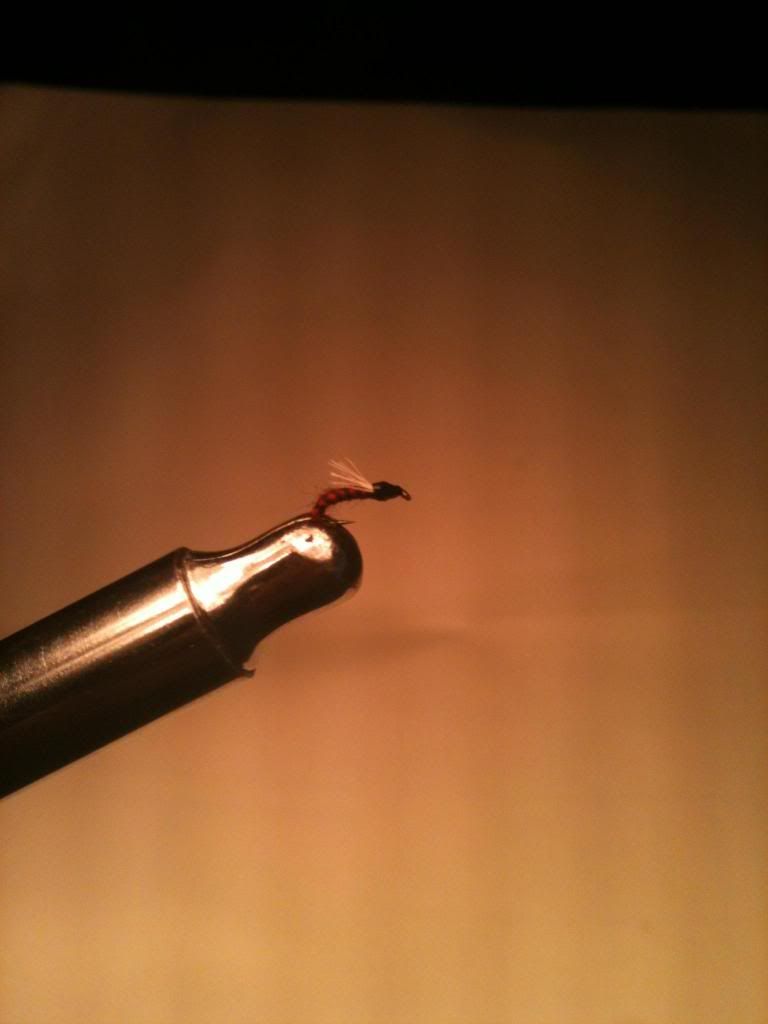 Hook: TMC 2488
Thread: Uni Black 8/0
Head: Black dubbing
Body: Single strand red and black embroidery floss, fine gold wire wrap W/coat of HH
Wing: White Bucktail
gr8outdoorz....Misfit midge
Hook - Mustad R70 #16
Bead - Cyclops 3/32
Thread - Uni 8/0 Olive
Under body - Thread
Over body - Olive Flashabou
Rib - Clear stretch tubing (midge size)
Hackle - Rooster saddle (stripped on one side).
This fly has produced fish many ways, however the best way, by far, I have found is actively stripping it with short, quick strips. For whatever reason, browns seem to like it better than bows.
jgentile....Black Head Midge size 20
Hook Dai-Riki 135 size 20
Bead: X-small black killer Caddis glass bead
Thread: UTC 70 white
Body: Flashabou 1/100 Opal
Thorax: UV Ice Dub, Pearl
jloncar....Variation of the smurf midge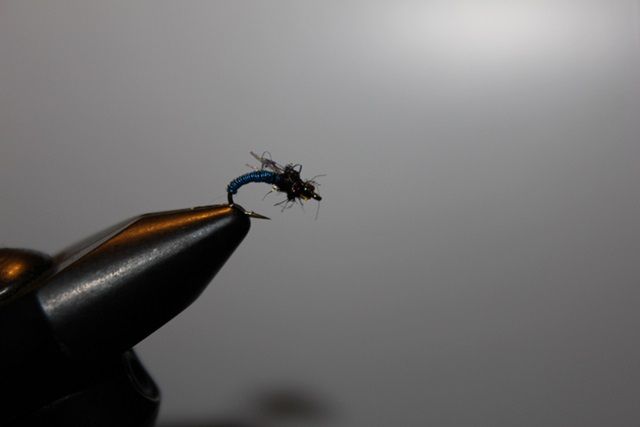 Hook: TMC 2488 size 16
Thread: 70 UTC black
Head: Killer caddis bead peacock
Body: Small blue wire
Wings: Krystal flash UV purple
Thorax: Ice dub UV black
ghocevar....Rainbow warrior size 18
Hook: Daichii Size 18
Bead: Waspi Nickel Tungsten 5/64"
Body: UTC Pearl Tinsel Medium
Thorax: Waspi Rainbow Scud Dubbing
Wing Case: UTC Pearl Tinsel Large
littledavid123....Javalina Midge
Hook: Size 18
Brown Thread 0/8
Black Bead
Thorax: Peacock Herl
Body: Javalina Hair
Larry
Last edited: