Messages

7,440
Reaction score

926
Location
Here's my primer on floatants for those of you that want to know how and why they work. Please do not republish, copy or link to this post. It is for my friends on NAFFF only.
To understand what a floatant is and how it works, we need to first understand the chemical nature of water. Water has an oxygen atom on one end and two hydrogen atoms on the other end. The oxygen end has a slight negative charge and the hydrogen end a slight positive charge. Think of it as a small magnet. It is a
polar
molecule.
Because water is polar, water molecules are attracted to each other and are held together by the weak charges called
hydrogen
bonds. The water molecules line up and form weak hydrogen bonds with each other. The attraction of water molecules to each other causes
surface tension
, which allows our heavier than water flies to float.
Because water is a polar molecule (has both positive and negative ends), it is the universal solvent. It is able to dissolve any molecule whose component(s) will form a stronger bond with the negative or positive ends of water than with the positive or negative portions of its own structure.
Visionlearning | Chemistry | Water
Because water is polar, some compounds can attract water. They are called
hydrophilic
or water-loving. Hydrophilic compounds are also polar molecules with end that are positive and negative. A polar molecule has ends that attracts one of the ends of water.
Compounds that repel water are called
hydrophobic
or water-hating. These compounds are
non-polar
molecules. They generally have methyl (CH3) or longer hydrocarbon chains on the outside. It is possible to actually measure how strongly hydrophobic a chemical is by measuring the incident angle of a water droplet on a surface coated by the chemical. The higher the incident angle, the higher the water droplet beads up (is repelled) from the surface.
A common example of a hydrophobic molecule is a hydrocarbon, or oil. Oil has no polarity and therefore is not attracted to water and cannot be dissolved by water.
A molecule can be polar on one end (hydrophilic) and non polar (hydrophobic) on the other end. These compounds are known as surfactants or surface active agents. They are the active ingredients in detergents because they can bond with compounds that are hydrophobic like oil that cannot dissolve in water by themselves. So they surround the non dissolvable molecule with their hydrophobic ends on the inside and the hydrophobic ends on the outside toward the water. They make oil and water soluble with each other.
Surfactant - Wikipedia
So how do floatants work?
Floatants work in two ways.
They act as a physical barrier, that is, they can work by being absorbed into the dubbing of the fly and coating the materials physically to prevent water from entering and coating the fly
They can also incorporate materials that are hydrophobic so that they not only physically block water, but chemically repel water so that it cannot be absorbed. The material should be super hydrophobic, i.e., have a high incident (contact) angle. Think of the indent angle as a measure of how high water beads up on a waxed car surface.
The need for super hydrophobic compounds has led to silicone compounds in various formulations. One common example is a siloxane which is a polymer (chain) of alternating Si and O atoms with side chains of hydrocarbons.
Siloxane - Wikipedia
The silicones are mixed in a carrier and applied by spray, gel, liquid, or powder. The powder floatants like Frogs Fanny are fine crystals of silicon dioxide which is normally hydrophilic (attract water), coated with a siloxane or silicone oil to make it hydrophobic (repel water).
The problem I've found with floatants is the balance of thickness of the floatant which provides physical blockage with clumping of the wing and tail fibers of the fly. It seems to me that thick floatants protect the body of the fly from absorbing water but clump the wing and tail fibers. I've yet to find the ideal floatant but
Tiemco Dry Magic
comes close. They say it will not clump CDC but i've found it will clump the microfibers of the CDC plumes. I use Only Dry Magic on CDC flies followed by a Frogs Fanny type fumed silica.
Do not confuse silicone floatants with desiccants.
Desiccants
are strongly
hygroscopic.
They actually attract and absorb water. Almost all desiccants used in fly fishing are silica gel.
Silica gel is not really a "gel", but a porous crystalline form of silica. Because it is porous, it has a high surface area that can absorb up to 40% of its weight in water. Silica gel can be "recharged" by heating it to 300 degrees F in an oven, but I just use several cycles in a microwave. Silica gel desiccant is the stuff in those small bags that are packaged with many products to prevent moisture damage.
It is important to realize the difference between a floatant and a desiccant, Since both are based on silicon chemistry, they are can be easily confused. Desiccants absorb water and are hygroscopic, and therefore cannot water proof a fly. They do not need liquid water, they can absorb water moisture from the air.
Floatants are hydrophobic and repel water. Therefore they can not dry a fly that gets wet. The fly must first be dried by squeezing the water out physically such as with a paper tower and then absorbing the rest chemically with a desiccant. Then the fly will be dry enough to retreat with a floatant.
I have repeatedly heard podcasts and read articles by well know fly fishers who confuse silica gel desiccants with hydrophobic fumed silica floatants. They both are silica compounds but their functions are "polar" opposites.
Now that we understand the chemistry of floatants for practicality, I break fly floatants down into 4 main categories.
1. Grease/silicone based gels like Aquel and Gink. These work by filling in the spaces between the dubbing so that water cannot penetrate. Being greasy with/or without silicone, they repel water but are not super hydrophobic.
2. Liquids or sprays with an evaporating carrier and the active hydrophobic chemical that is used to coat the surface of materials in a fly to actively repel water. Loon Outdoors Hydrostop is an example.
Waterproofing silicone sprays
for tents and jackets are another.
3. Hydrophobic powders - Frogs Fanny, or Loon Outdoors Blue Ribbon Floatant. This is fumed [ame]http://en.wikipedia.org/wiki/Silica_fume[/ame] (microscopic amorphous crystals of silicon dioxide). Micro silica is hydrophilic so it is treated with siloxane or silicon oil to make it markedly hydrophobic. These treated powders will float a bead-head fly because their chemical bonds actively repel water.
4.
Silica gel
which is a solid desiccant that absorbs water. It is commonly packed with electronic equipment to keep it dry.
5. Combination products of (2) and (3) - Loon Outdoors Top Ride, or Shimazaki Dry Shake. The silica gel absorbs the water from the fly and the fumed silica provides water repellency.
A cheap way to make your own Frog's Fanny, Top Ride, and Shimazaki Dry Shake is to buy the materials on your own.
Silica gel
is used to dry flowers and is cheap when bought in bulk.
Not all fumed micro silica will work as a floatant.
Normally fumed micro silica is used as a filler and must mix with water. So regular micro silica is exactly the opposite of what you want. You want HYDROPHOBIC fumed micro silica that has been treated with silicone oil or a siloxane compound to create a hydrophobic layer. This stuff is identical to Frogs Fanny and can be used in the same container.
You can buy bulk hydrophobic fumed silica at
EpoxyUSA Hydrophobic Fumed Silica
This same material is used by bow hunters to waterproof feather fletching on arrows. Real feather fletchings stabilize arrows better at high altitude than plastic fletchings. So archery companies have marketed the hydrophobic fumed silica as "feather powder" to waterproof their arrows in foul weather. See the this
Feather Powder
at Cabelas.
Mix up silica gel and hydrophobic fume silica for Top Ride or use just the fumed silica for Frog's Fanny. I transfer the fumed silica to a clean and dry squeeze ketchup bottle using a funnel. Turn the bottle upside down and a gentle squeeze fill transfer the fumed silica with little loss. Remember to do this outside because fumed silica will cause silicosis and you won't want to breath it in.
As I mentioned above you can recharge the desiccant silica get. When you have used up all the fumed silica, pour the remaining silica gel crystals or spheres into a ceramic dinner plate or bowl. Microwave on high for about 30 seconds and that will drive out the water as steam. You may hear some popping as the water superheats and the sudden formation of superheated steam explodes the crystals. Do a couple of cycles in the microwave, allow the crystals to cool, put them back into the shaker container and add fresh fumed silica from the ketchup bottle.
Part II - These are the steps for treating a dry fly to get it to float and keep it floating =
Pretreatment, Treatment, and Re-treatment.
1.
Pretreatment
- This is a step that is performed at home after the fly is tied or after you buy the flies. The flies are soaked in a solution that leaves a coating of wax or silicone on the flies after the carrier liquid evaporates. You soak the flies and allow them to dry off on a paper towel or a sheet of newspaper. After they dry, put them in your fly box. Use a hemostat to dip the fly into the solution.
Hydrostop is a commericial product designed for this by Loon Outdoors.
You can make your own version by spraying silicone water repellant used for treating outdoor clothing and tents into a glass jar.
You can make Ray Bergman's floatant by dissolving 2 ounces of paraffin in a pint of nonleaded gasoline. Shave the paraffin into thin slivers and dissolve in the gasoline. Treat with care and do it outdoors.
DrLogik - Casual Research on Fly Floatants/Dressings and their History
2.
Treatment
is done on stream and what you use depends on the type of fly you have.
CDC requires special care because most liquid and gel floatants will gum up teh CDC fibers. You can use Tiemco Dry Magic sparingly to prep the CDC fibers and then use hydrophobic fumed silica powder sold as Frogs Fanny powder and Loon Outdoors Blue Ribbon Floatant.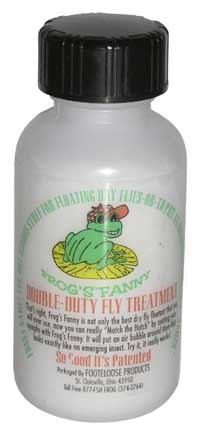 For standard hacked dries or deer hair patterns, you can use a paste or gel floatant or hydrophobic fumed silica as for CDC flies.
Aquel, Gink, Mucilin, Dry magic and even drugstore unscented Albolene makeup remover can be used.
3.
Re-treatment
is done after the flies no longer float because they have become waterlogged or slimed by catching fish.
Wash the slime off the fly by swishing them in the river. Squeeze the water out of the fly. You can use an amadou pad, a piece of artificial automotive chamois. or just piece of paper towel. Squeeze and remove all the water you can. Then place the fly in a container of silica gel desiccant to absorb the rest of the water from the fly. Then retreat with powder floatant of hydrophobic fumed silica. You can combine the silica gel and powder floatant treatment by using combination products like Loon Outdoors Top Ride or Shimazaki Dry Shake.
Repeat re-treament as needed.
© This post is copywrited so please do not copy or link. This primer in modified form was published in California Fly Fisher, Feb, 2012.
Last edited: