Administrator
Staff member
Messages

21,497
Reaction score

4,171
Location
But I'll post this because I just did it. I'm in an in between time here, Kings are about done and survivors are on the reds or close to it by now, and Silvers have yet to show in any appreciable number. So I'm sitting here watching the grass grow wondering when I might have to mow it again and I think, "I should clean the corks on the Spey rods that have been used this year.
Now this salmon fishing thing can be a dirty business especially if you catch fish. All that slime and when you have them near shore you stir up a ton of silt that muddies the water and ends up on your hands because the slime acts as the transporter. Next stop for the slime silt compound in the cork grips of those expensive rods so I thought I'd better have a look. Typically I did not think to take before and after images but they were all bad and one of them had began to mildew because the rod sock had gotten wet.
The new program is the household cleaning agent 409, the way that stuff will clean the top of the gas range I couldn't imagine rod grime standing a chance against it. Right O' on that call and you just scrub them off with a kitchen sponge not the 3M scrubber part of the kitchen sponge which was cool with me.
Results;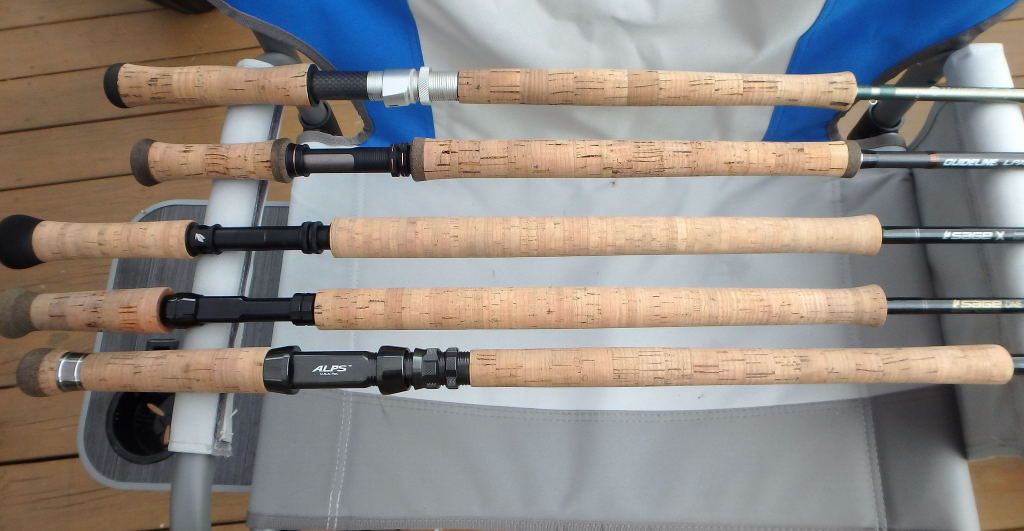 Hardy - Guideline - X Rod - One Rod and Galeforce Rod, protecting the investment by keeping them in good condition. Give the 409 a go next time you realize they are getting grimy, come to think of it there are 6 more in the closet of the back room but I think I did them before they went to the tubes, better check.