Falling down the Trout Spey rabbit hole here is my comparison of two of the popular brands of Trout Spey Scandi lines.
My go to line has been the 270 grain integrated SA Spey Lite Scandi line and I'm using it on a 10'6" 4wt two handed rod. I have a Loop brand 11' 30 grain intermediate poly head on the front end that loads the rod nicely. The paint on my rod recommends a 290 grain Scandi line so I'm in the ballpark @ a total of 300 grains.
I am super comfortable now with this SA line and how it performs with all the usual suspect casts that can be made with it. It easily jumps between touch and go and snap C's.
So when I saw Rio's version of this same line pop on the auction site (on the cheap) I thought I would give it a try and make a comparison.
Rio's version is 265 grains and I have the same 30 grain poly on the sharp end.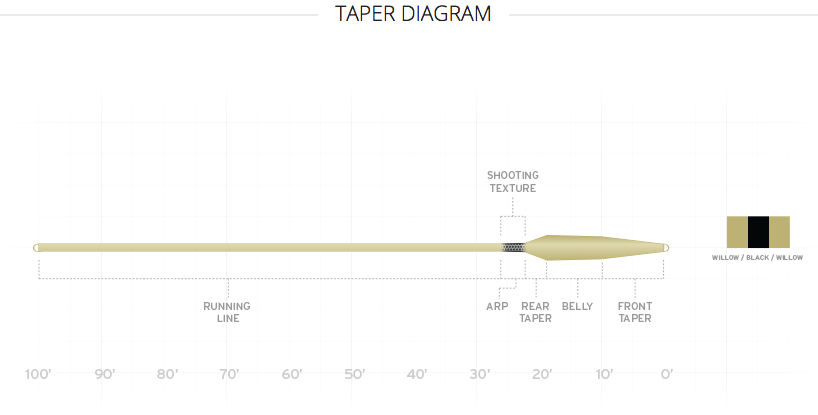 Here's the lines on paper with the SA diagram on top.
On paper they are very similar and guess what? They cast very similar. If anything I would give the edge of user friendliness to the SA line. Veteran casters will have no problem with either line. The SA has a slightly shorter front taper so maybe that attributes to making it easier to cast for a beginner.
Here's the rub, If I had to pick between the two I would go with the SA and that's only because the SA has a better integrated running line. Stripping in the lines you can notice the difference in friction. That said, if the Rio running line was slicker I would go with Rio because I'm pretty sure I could achieve longer casts with the same amount of casting effort. Another consideration is that the Rio line has a thicker head than the SA.so If space is an issue on your reel SA may be the better option.
Final notes they are both great lines and user friendly. So the plan is to put the Rio line on ice and save it for a rainy day once I wear out the SA line. As always, YMMV...
Last edited: