Messages

20,771
Reaction score

241
Location
Here are the photos and recipes from the 2015 Nymph Fly Swap.
Thanks again for everyone that joined in on the nymph fly swap and the awesome patterns you guys and gals tied up!
Note: If you haven't posted your recipe for your nymph please do so I can update this thread.
By S_fontinalis: The Hare and Copper Nymph
Pattern recipe:
Eunan please send me your pattern recipe, thanks!

By Realispatt: The Micro May Nymph
Pattern recipe:
Hook:#20 Tiemco 206BL
Thread: UTC 70
Tail: Pheasant Tail
Body: Stripped Peacock Herl
Rib: Extra Small Gold Wire
Thorax: Superfine Dubbing (chocolate)
Casing: Pheasant Tail
Back: Pearl Flashback Small
Legs: Pheasant Tail
Bead: 2mm Gold Tungsten
By Ia_trouter: The Whitlock Red Fox Squirrel Nymph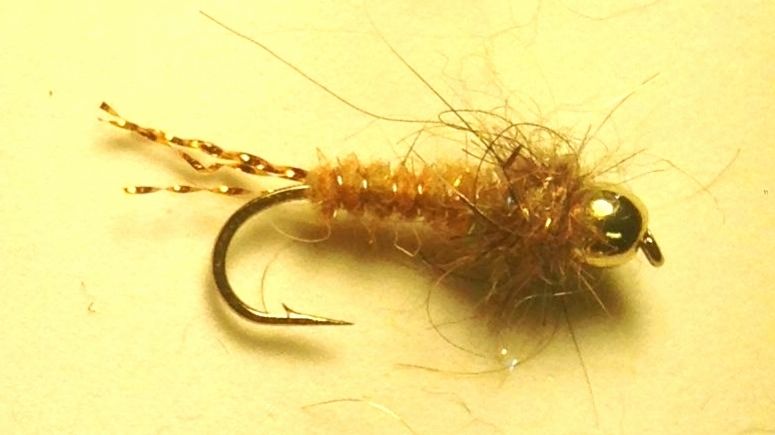 Pattern recipe:
Allen S403 #12 3XL Streamer/Nymph hook
Allen 3.2mm Brass Bead
Thorax Dave Whitlock SLF Color #1
Abdomen Dave Whitlock SLF #2
Gold ribbing, size small or brassie
Tail-flash, whatever you have is fine IMO
By Itchmesir: Bead Head Soft Hackled Pheasant Tail Nymph
Pattern recipe:
Hook - Allen S402 #14
Bead - 2.5mm gold brass
Thread - utc 140, red
Wire - Ultrawire, Gold BR
Tail - pheasant tail fibers, natural
Abdomen - pheasant tail fibers, natural
Thorax - strung peacock herl
Hackle - Hen Saddle, speckled brown

By Troutma99: The Red Serendipity Variant
Pattern recipe:
Hook: Size 18 Scud Hook
Thread: UTC 70 Red
Rib: UTC Ultra Wire Silver
Head: Elk hair
Weight: A tiny piece of flattened lead free wire, tied in under the elk hair (it doesn't do much, but with such a slim profile, it actually does help get this fly down)
By Hokiehunter07: The Olive 20 Incher Stonefly Nymph
Pattern recipe:
Hook: TMC 200R #12
Bead: 7/64 Gold Tungsten
Weight: .025 Lead wire
Thread: 8/0 Olive
Tails: Black Biots
Rib: Gold Flash
Abdomen: Peacock Herl
Wingcase: Turkey Tail Quill Slip
Legs: Hungarian Partridge
Thorax: Olive Hares Mask Dubbing
By Stenacron: The Prince Nymph Variant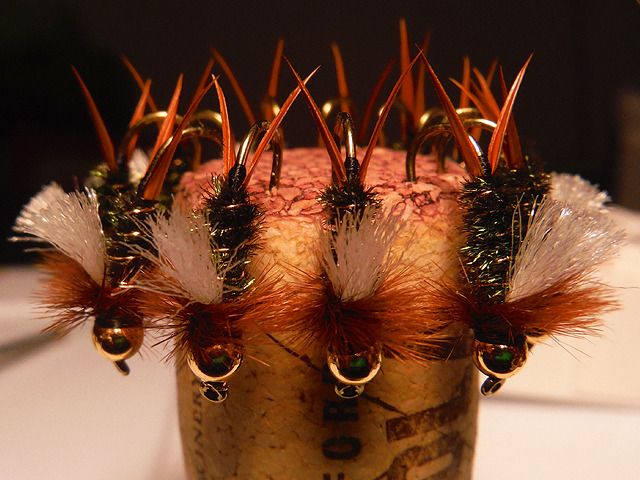 Pattern recipe:
HOOK:[/B] TMC 5262 (nymph hook, 2X long, 2X heavy)
BEAD:[/B] 1/8" brass bead, gold
THREAD:[/B] UTC 70, black
WEIGHT:[/B] ten (10) wraps lead wire
TAILS:[/B] two (2) goose biots, brown
BODY:[/B] four (4) strands peacock herl, twisted together
RIB:[/B] Ultra Wire, gold, size = Brassie (BR)
WING TUFT:[/B] Antron yarn, white (clipped short)
COLLAR:[/B] ostrich herl, brown
TYING TIP:[/B] Since we have some new guys in this swap... when tying with peacock herl, you'll cut down the breakage to near zero if you "pre-break" each strand first. Grab the herl by the tip, and by the butt end, and slowly stretch it until the tip snaps off. Doing this will almost completely eliminate broken herl during the tying process.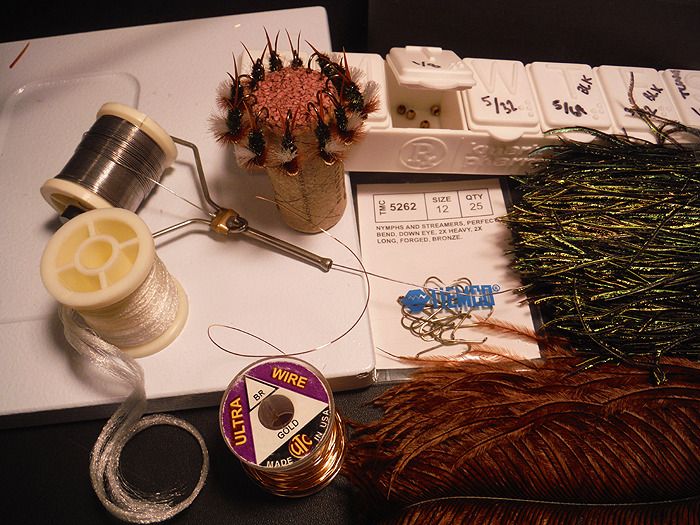 EDIT: I just noticed that I left the goose biots and the tying thread out of the picture above... so much for the sexy "materials shot"
By Slips74: The Hobgoblin Nymph
Pattern recipe:
Hook – Emerger #12
Bead - Tungsten or Brass Black
Thread – 6/0 Black
Body - Green UTC Holo Tinsel
Tail & Wing - Peacock Krystal Flash
Rib - Copper Wire, Brassie
Collar - Peacock Herl
Coating - Clear Cure Goo Hydro or Hard as Nails
By Gramps50: The Green Weenie Nymph
Pattern recipe:
Type: nymph Subtype: beadhead
Hook type: Daiichi 1710 nymph 2x #12
Bead Black brass 5/32″
Thread: Drk Brown Uni 6/0
Body: Chartreuse Antron Yarn AY509
Body: Midge flash Fi Yellow TV032-9 – 2 strands doubled
Ribs: Ostrich Plume black 5 wraps on body, 3 wraps behind bead
Notes: This nymph started life as a Schroeder's Green Tunghead Green Weenie, but was morphed into Gramps Green Weenie with the addition of Midge flash and a black bead head.
By Tamster321: The Trigger Nymph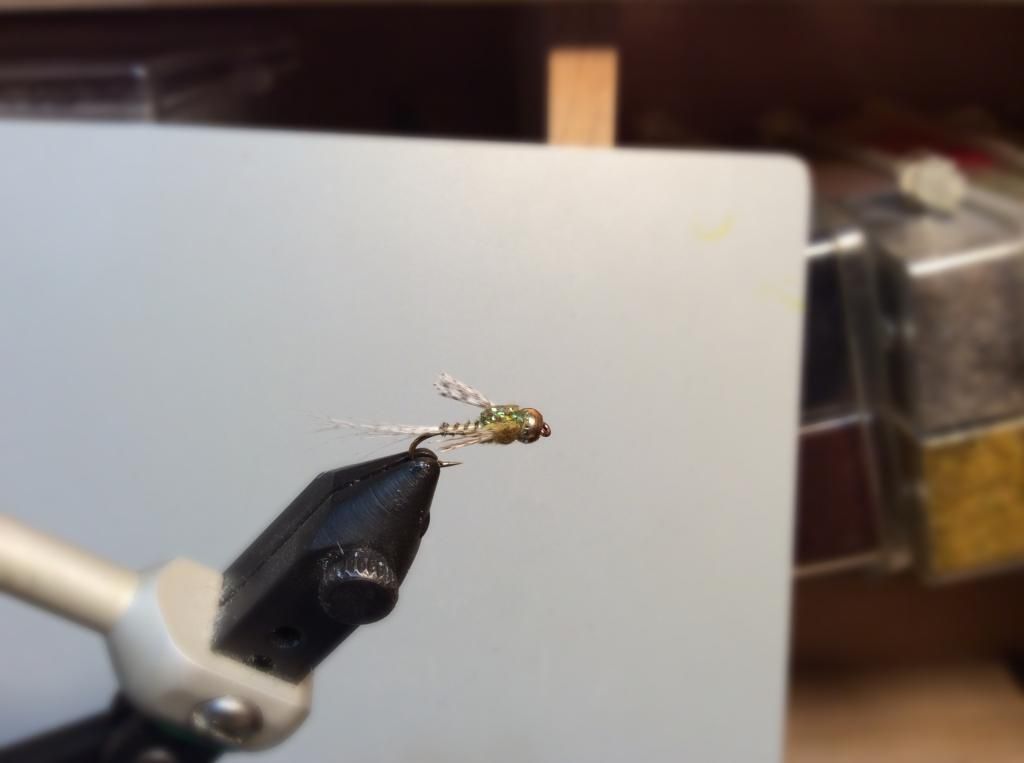 Pattern recipe:
Tamster would you please send me your pattern recipe so I can update this thread, thanks!
By Honyuk96: The Sparrow Nymph
Honyuk96: Your photobucket photo has been moved, would you re-post it so I can add a photo to this thread, thanks!
Pattern recipe:
Hook: Tiemco 3761 #14
Thread
live 8/0
Weight: lead, because I believe nymphs should be weighted
Tail: fluff from a pheasant. I used the common barnyard rooster
Body: olive dub
Rib: fine gold wire
Thorax soft hackle: traditionally pheasant. I subbed wild grouse
Thorax: lead, dub, traditionally pheasant after shaft feather. Again, I subbed common barnyard rooster after shaft feather. I tie the after shaft feathers in using a dubbing loop for durability.