Messages

19,544
Reaction score

595
Location
One day on this outfit but I've been doing this long enough that it doesn't take a week to come to an opinion. The rod is not a disappointment, it is like a 13 foot version of my Hardy Swift Mk II 11 and 1/2 foot seven weight rod only better. That may sound like a weird way to describe a rods performance but I'm not as well versed at breaking down all the variances in rods. What I know from many seasons of fishing the Swift rod is that it casts better (for me) than an 1100 dollar 14 foot Sage X eight weight and I consider that something to take notice of. With that in mind please know that if I compare the Guideline rod to my old hardy that is a statement of high esteem nothing else.
This entire outfit weighs in at 15.4 ounces including the 552 grain Super Scandi with running line & backing. Before you move on think about that a few seconds, 15.4 ounces total weight for a 13 foot 8/9 that'll haul in a King Salmon soon as I locate one! Moving on here are some images of both rod and reel right after I brought it home.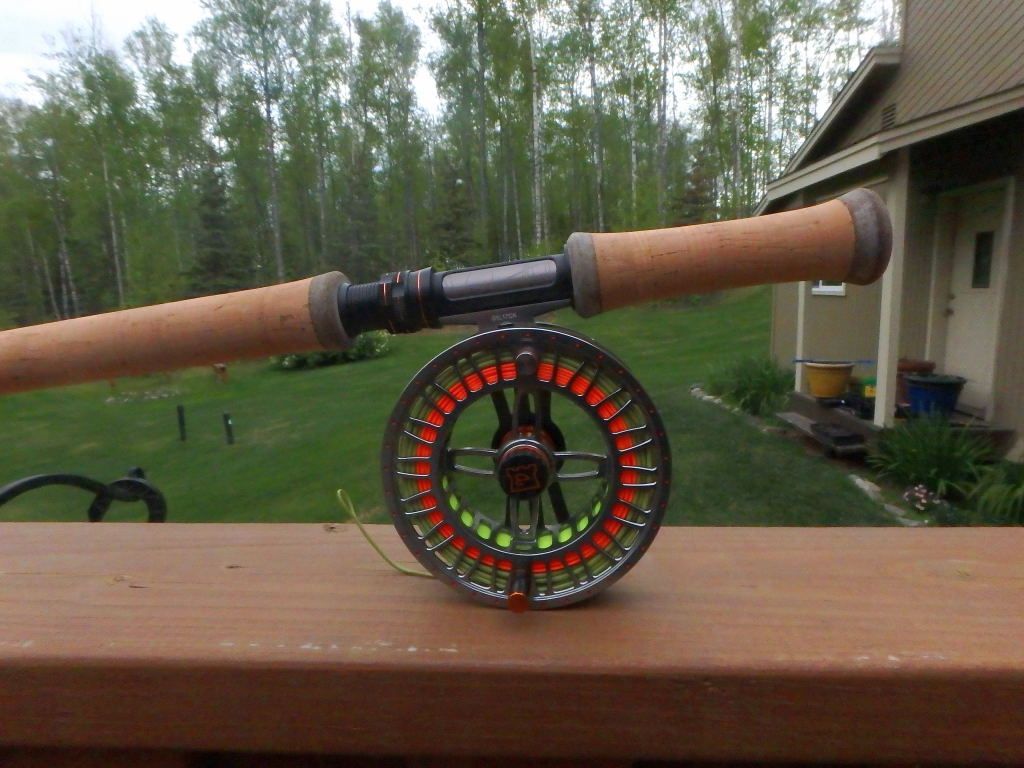 A few facts to share: before I bought that reel I read some reviews on blogs that were less than 100% positive. Two things the reviewers complained on were the size of the reel spool handle and size of the drag knob. They also grossed over the first 5 index clicks on the drag as having little effect. I have a different take, the small handle and drag knob? How would you expect someone to make a 4 1/4 inch reel that will serve as a Spey reel that weighs 5.6 ounces with an oversized spool handle and drag knob? I have no problem with either and am quite sure the drag will handle fish from 16" rainbow trout to 35 pound salmon so we're good there too.
There you have a look at the miniscule drag knob that I can somehow manage with hands made for palming basketballs....... Notice how the orange and copper highlights on the reel just happen to match the accents on the rod? Trust me that played no small part in my choices when acquiring this set. That and the weight of both components, did I mention that this rod weighs in at 7.3 ounces? Now that's light for 13 feet of power I think and when you put the 2 together the balance of weight to casting power is sensational.
Finish on the rod matt black with copper trims.
Hardware is attractive and those shaped duel reel seat nuts are smooth as silk and lock down beautifully.
Super light guides and attractive shafts;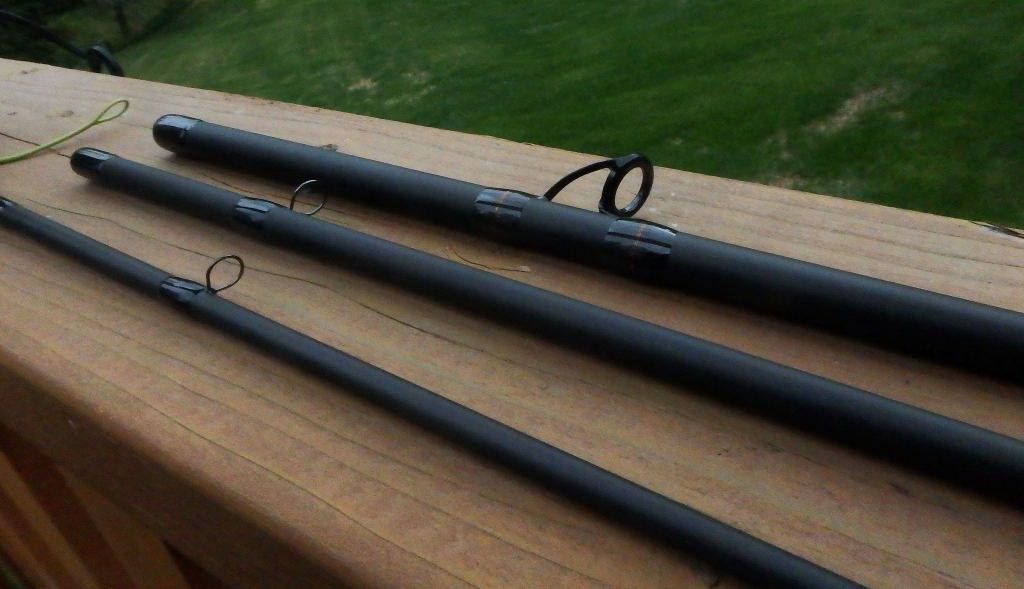 And I find these to be a nice touch if they are correct (alignment dots) and these appear to be correct.
Rod bag / sock is really substantial, a type of soft foam porous material designed to provide padding and promote drying of the rod even when bagged, nice!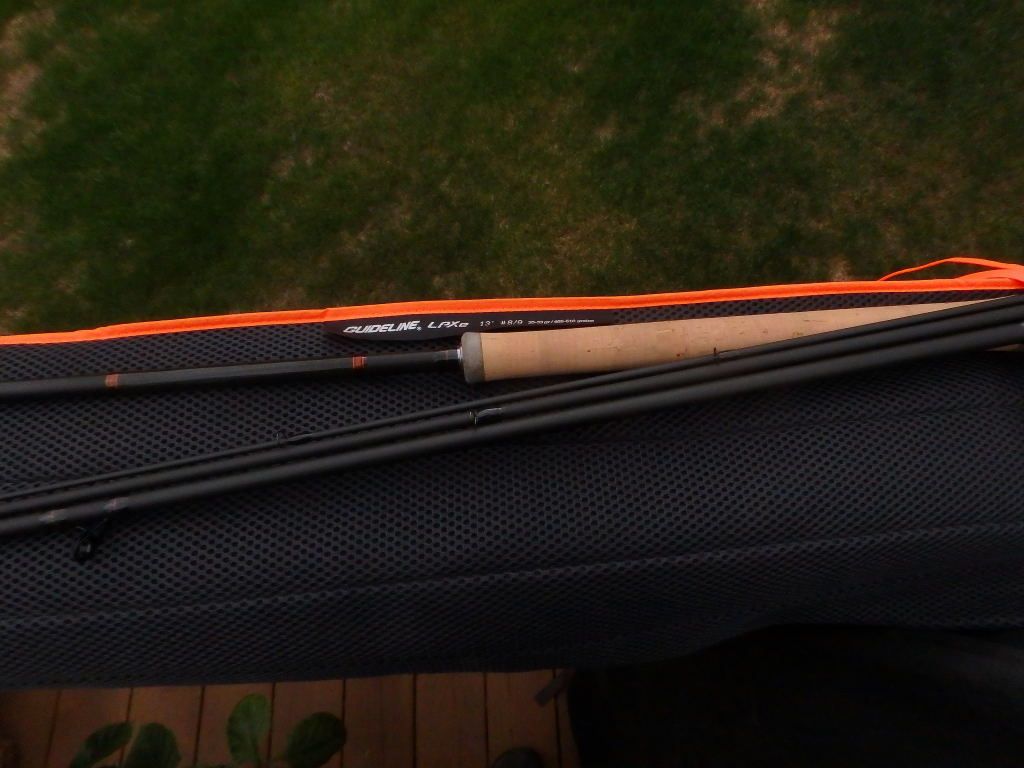 Rod storage / transport tube is super duty and nicely done, I like the entire package.
Now about the use for an 8 hour day on the water. There are salmon being caught & released at the estuary as of yesterday (Tuesday June 2nd) but still no appreciable number up the river where there is current to fish in. I don't fish the estuaries in any of these rivers. As of yesterday I have not yet seen a salmon up any of the rivers I've been scouting but I can now reasonably expect this to change literally any day now based on what I know about estuary action. I'm still catching trout but they are by-catch and not being targeted.
Yesterdays conditions went from sunny from morning through 1 PM or so when clouds took the skies but no rain fell.
Couple of these guys about mid day then nothing.
This is one variation of my AK Assassin tube fly hanging in the current, when you have them swinging and use varied mends and twitches they are a very lively lure and they catch kings like dope.
I made a short video of the flies action but haven't uploaded to you tube yet.........
Back to the rod ............
The rod is also cut down to allow for the featherweight like feel, the front cork is 12 & 3/16 inch and the bottom cork about 4 and 1/4 inch. Took a moment to find where my top hand grip would land but once that was figured things went without a hitch. Guideline recommends you use a 465 - 510 grain Scandinavian head weight on this rod but I had zero trepidations loading the 553 grain Super Scandi custom cut from Steve Godshall's bench and it works like a charm. Casts of 70 to 80 feet when desired are effortless and I really mean that! Longer casts as with any rod I've ever used in single or 2 hand length take more focus and effort but if your game lies between 60 and 90 foot casting then this is a combo from heaven to use.
Oh I almost forgot, you know how you always find all those discussions about "Balance" when people talk rods & reels? Take a look at the picture below and remember that this entire outfit including the line is 15.4 ounces!
My index finger there is roughly 1/4 to 1/2 inch in front of the winding check of that rod, does that look like balance? That is approximately where I hve been trying to get every rod & reel combo I have owned since I got my Orvis Far & Fine in 1979 to balance. Honestly I don't even know what swing weight is but I don't think this outfit has a bad one of those either. I still don't know the difference between a single Spey and double Spey but am pretty sure I don't do them but I can tell you that I'm moving to Guideline rods!