Administrator
Staff member
Messages

20,828
Reaction score

2,877
Location
But I can expect improvement beginning Monday. I never fish weekends for fear someone would be out for a boat ride and put 2 + 2 together. In this case the 2 + 2 would be the places I swing flies. These are not the same spots where others generally fish and I don't like to be seen on my favorite runs unless there is absolutely no avoiding it.
I've never caught a King Salmon in May, I've heard of it happening for those who fish down rivers near their confluence zones. I don't go there because generally speaking those are places with hardly any current and not good fly fishing water. They are also almost always deep water or way too silty to wade in so I go catch-less every May.
It is however good to get out, I like casting and refining my presentation techniques even if there are no fish grabbing flies for me. I've made this post to provide a look at where I spent my day Thursday.
I've been parking my boats on that spot since 2006 when I moved out here from Anchorage. This particular run is effectively 1 and 1/2 miles long and is one of the longest straight channels on the river. The river itself is over 108 miles in length from the headwaters to the ocean and our annual King run numbers are around 1400 to 2400 fish and not all of those are adult fish. They are all counted regardless of whether they are a 50" 50 pound adult 5 or more years old or a second year Jack weighing 4 pound they all are part of the count.
As if the low number of salmon isn't enough to make this hard to do how bout some color to your water?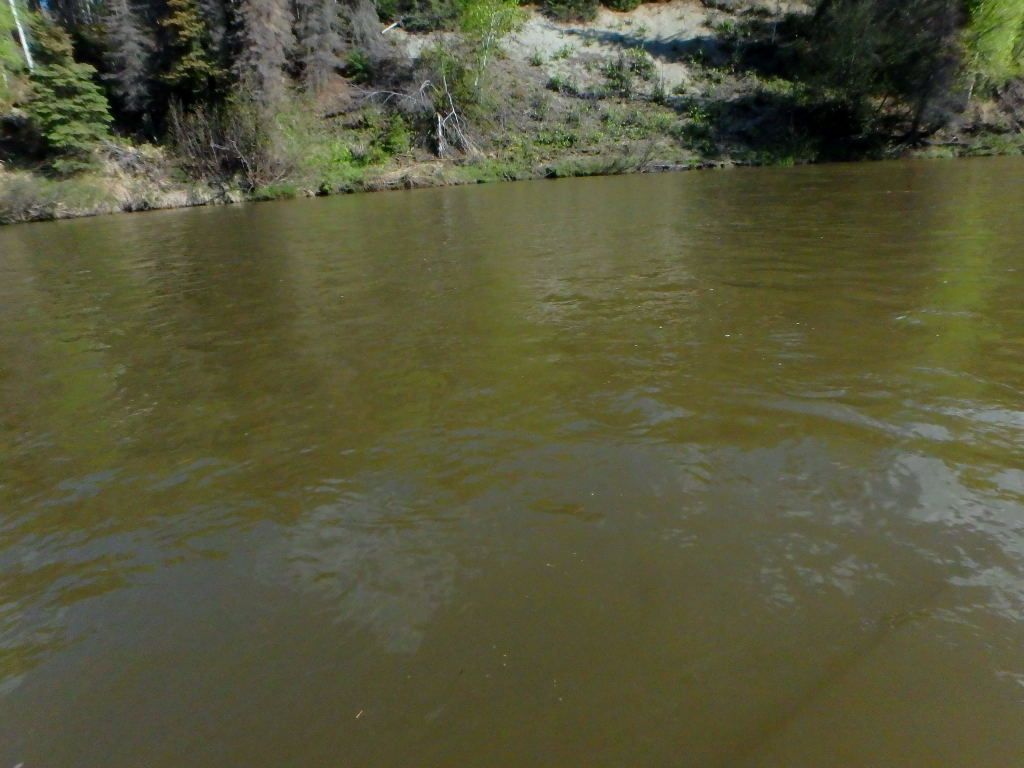 This river takes on a fairly unique color during runoff time. There is silt some of which is carried all the way from the mountains a hundred miles upstream and there is tannin stain. The tannin stained water comes from many tributaries that flow from ponds and lakes all of which are draining wetlands, there was a pretty good snow this past winter so the water is about 2 foot above what would be perfect level.
Visibility in that appears to be around 2 to 3 feet based on my ability to see either the bottom or my feet while wading. When you look at all this water and then figure that I have to put a fly within 2 to 3 feet of a salmon to catch one things may be coming to a prospective. I no longer push King Salmon fishing because it is so difficult that very few clients would enjoy the challenge.
I said that I expect a better chance Monday because that will be June 2nd and the run, if they come, peaks by June 24 historically. They either have to be here over the next couple weeks or the chance to catch some is past. When you think on those numbers I quoted stop and realize that 99% of residential fishermen are pissed off that the season is closed to harvest of the remaining fish! People normally take boats all the way to the estuary where those 1400 to 2400 fish will be gathered in one large pod. They find them with depth finders and fish finders then slaughter their daily limits usually with multiple anglers in the boats with a party like atmosphere once the fish are located. Remember, these fish are darn near whipped out in this river and most others on mainland Alaska. I fish for fun, I fish because I have developed a skill over the many years and I don't need to kill a fish in order to feed myself. If things were that tough I'd sell my expensive boat, and a lot of other stuff before I killed a king salmon here and now.
Anyway, here's some more looks at my haunt.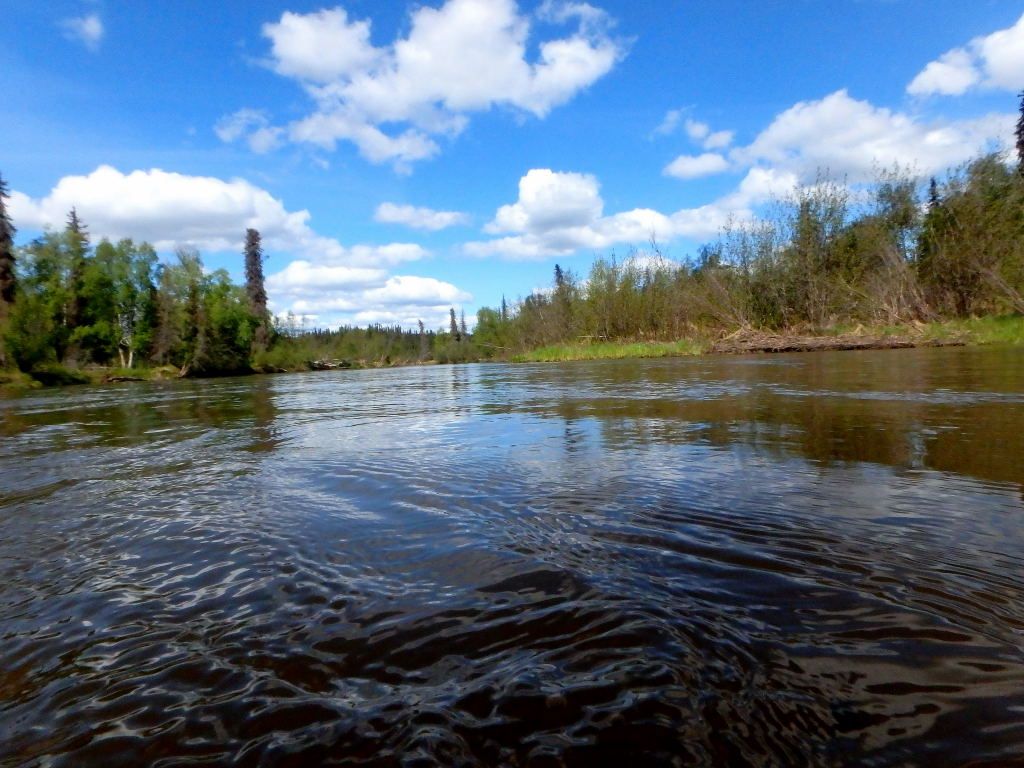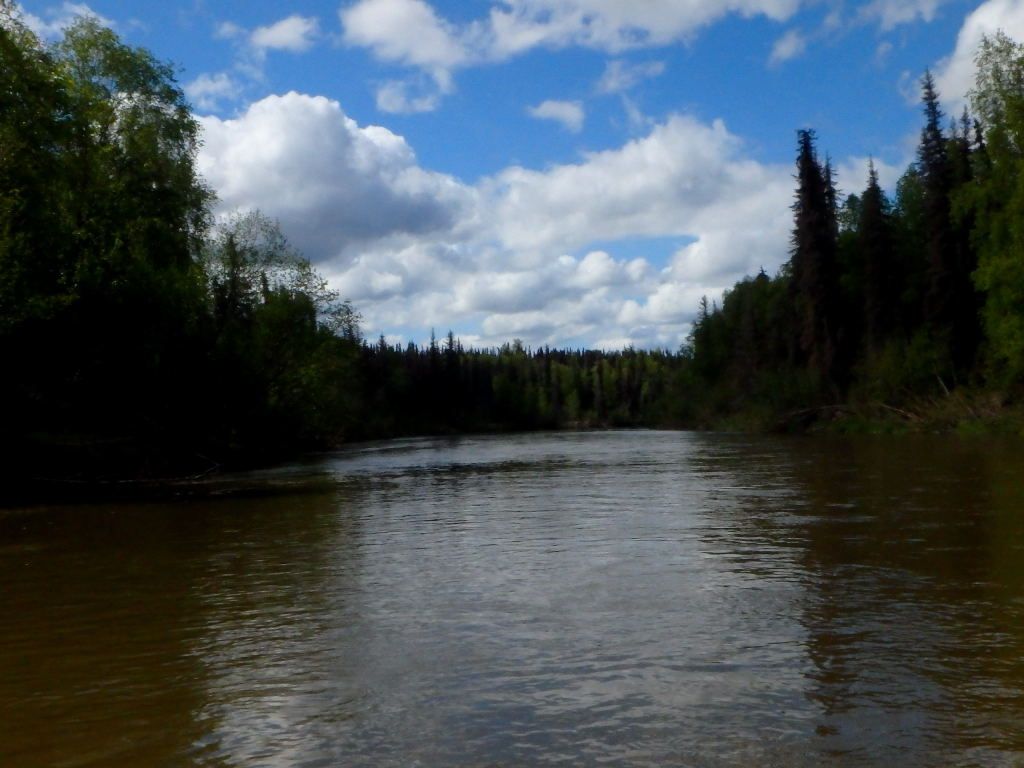 All taken along that mile or miles of river, I drive up much farther then drift down using the oars searching for fish, if I find them above then I fish there but if you find nothing you always come here.
I'm not sure how many I've caught along this stretch over the years, maybe a hundred, that would be fair without telling tales. I always say to myself that if there's a salmon to be found in this river then I'll find it on this stretch of water. I swear though that the color in the water makes this 10 times harder because there is zero chance of seeing them......
Fellas gotta have things to do if he ain't catchen fish I always say. That last picture of the anchored boat? I must have sat there for a couple hours watching clouds, birds, eating some jerky, drinking a beer and thinking of my old friend Boss.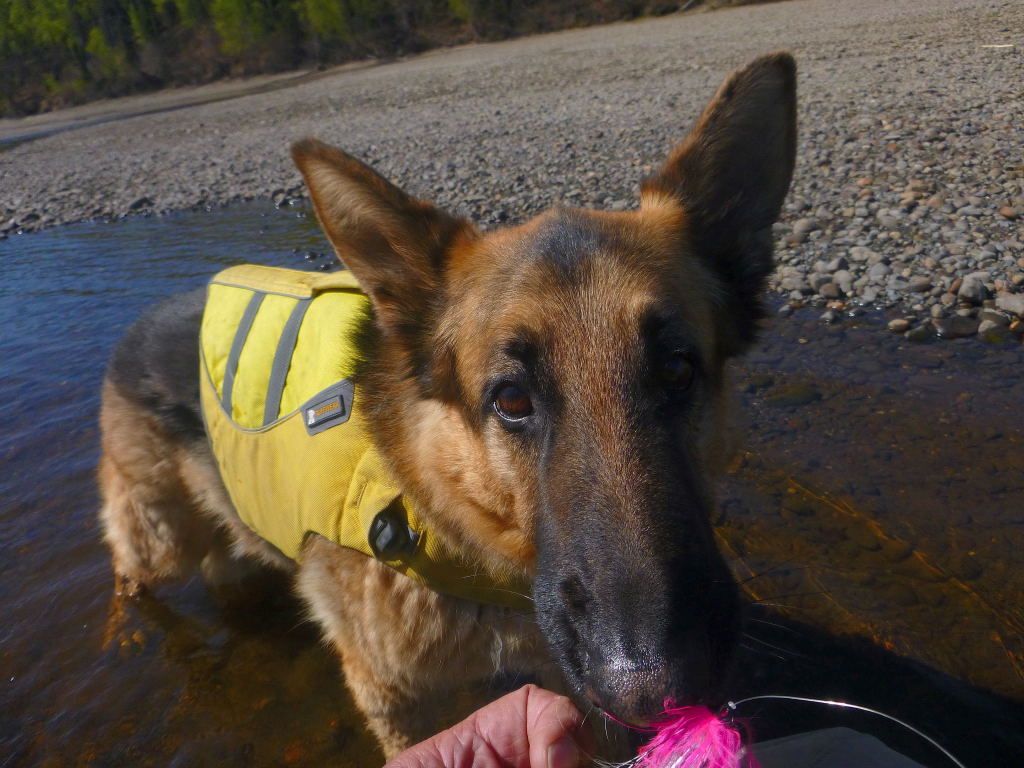 That was he and I King fishing in May about 4 or 5 seasons ago. Boss left my life March 15 of 2019 and I can tell you this isn't the same anymore. He fished with me for 13 years. Every trip, we faced down a brown bear big enough to have killed us both but for a can of bear spray intervening. He darn near drown when he was young and I darn near drown saving him. Sitting there in one of our spots with some jerky I couldn't help thinking of him. I used to take a one pound bag of plain beef jerky on every trip just to be sure there was enough for him. We'd sit and watch things and I'd drink a beer or 2 and feed him jerky until he would say he'd had enough. That picture above is him checking my fly, he checked my flies and sniffed every King I ever caught.
Last edited: